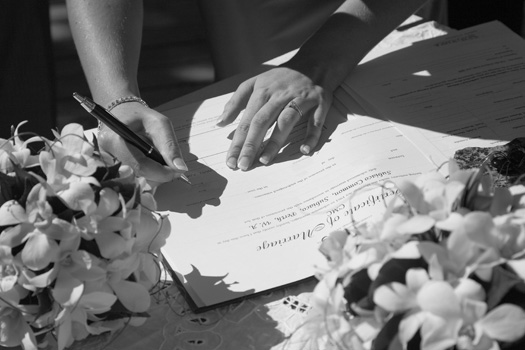 First off…

Establish the type of ceremony you require. Check date, time and venue.
Arrange a meeting. If overseas we can communicate to take you through the process via skype or phone call.
At the first meeting, confirm all wedding details, discuss legal requirements, ceremony details.

On acceptance of our services as your celebrant

All documentation will be provided to you to ensure you are clear on all obligations and timelines including provision of originals of all relevant certificates.
Comprehensive information regarding ceremony readings and vows can also be made available.

3-4 weeks before the ceremony

By now we will have worked together to have a good outline of your wedding ceremony. Communication in person or via email or Skype.

1 week before the ceremony

Rehearsal/final meeting at venue (if convenient) or another suitable/similar venue.
Confirm ALL wedding details.

The Perfect Day

Everyone at the venue on time, perhaps a little nervous, but happy and looking forward to this very special occasion.
There is only document for you to sign on this day, otherwise relax and enjoy.

Afterwards

All legal documentation will be processed for you, copies to you on the day. Our role as your professional celebrant is ongoing, but after a review of the day at your convenience, we hope not to see you again!! Except perhaps as your celebrant in a baby naming ceremony or re-affirmation of your vows at some later date.